This article is about Uhtred 'Osbert', but you may be looking for this Osbert.
For others named Uhtred, see Uhtred (disambiguation).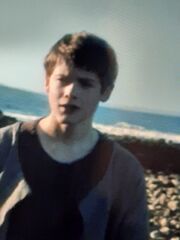 "I was once named Osbert, but when my elder brother became a priest I was given his name. I am Uhtred of Bebbanburg."
—Uhtred
Uhtred Uhtredson (originally called Osbert Uhtredson, sometimes referred to as Uhtred of Bebbanburg) is a character on both The Saxon Stories and The Last Kingdom. He is the youngest son of Uhtred and Gisela.
In "The Saxon Stories", he was originally named Osbert (Uhtred's original name), but after Uhtred disowned his older brother for becoming a Christian and priest, Uhtred named Osbert his heir and changed his name to Uhtred. In "The Last Kingdom", his name was Osbert.
Biography
[
]
He killed the Jarl Sigurd Thorrson at the Battle of Tettenhall. He carried Sigurd's sword which he has named Raven-Beak and the seax Attor.
(More To Be Added)
Winchester, Wessex; Uhtred returns home to find Thyra and Gisela preparing food for baby Stiorra and Young Uhtred. Gisela is certain that she's pregnant with a boy as he will not keep still. She remarks that thankfully he will be the last. Uhtred then informs her that he will be marching, but he has sent word to Hild in Coccham, who will join her in Wessex. ("Episode 3.1")
Later, Gisela goes into labour. Hild and Thyra see her through the birthing process of Osbert (later known as Uhtred Uhtredson). ("Episode 3.1")
Uhtred returns to Wessex to find Hild awaiting. She informs him that Gisela died during childbirth, but she's given him another son. They buried her days ago. Baby Osbert is seen with assumedly a nursemaid. Uhtred is too heartbroken to even hold the baby in his arms. ("Episode 3.1")
After Uhtred accidentally kills Brother Godwin, he retreats to his Winchester home. Hild arrives and she sees the kids with Uhtred; baby Stiorra is hugging her father, baby Osbert is in the arms of the nursemaid, and Young Uhtred runs over to Hild who tells him to go to sleep as its late.("Episode 3.2")
After Uhtred runs away to Northumbria and Alfred officially exiles him, it is said that Hild is in Coccham taking care of the children. Alfred tells Father Beocca to have the children brought into Winchester for religious instructions. Uhtred doesn't find out about it till much later.
After Uhtred finally retakes Bebbanburg, Hild leads a now-teenage Osbert to the fortress to meet his father. Hild promises Osbert that the new lord of Bebbanburg might be able to tell him something of his origins. Osbert asks if Hild thinks that he may have once met his father and she simply replies "something like that," not telling Osbert the truth.("Episode 5.10")
Killed Victims
[
]
This list shows the victims Uhtred has killed:
This list shows the victims Uhtred has killed:
Family
[
]
This list shows Uhtred's family:
The † means that the individual is dead.
The ° means the individual appears more then once in this list.
Appearances
[
]
Trivia
[
]
Raven-Beak is the name of Uhtred's sword and Attor is the name of Uhtred's seax/short-sword.
Uhtred "converted religions", he was born a pagan but was baptised as a child into Christianity after being taken for religious instruction by King Alfred as revenge against Uhtred. He, unlike his brother, decided follow the pagan beliefs of his mother and father instead.
Uhtred 'Osbert' was born roughly in 890.